We are excited to announce the latest version of our award winning product, Aqua Data Studio. Aqua Data Studio 11.0 offers a complete Integrated Development Environment (IDE) for database query, administration and development. Aqua Data Studio supports all major database vendors, including Oracle, DB2 LUW/zOS/iSeries, Netezza, Sybase ASE/IQ/Anywhere, nCluster, Teradata, ParAccel, Informix, MS SQL Server, PostgreSQL, MySQL and many others. With our version 11.0 release, we further extend the functionality of Aqua Data Studio by adding the following features:
Microsoft SQL Server 2012


We are now offering native support for Microsoft SQL Server 2012. With native support, you can use Aqua Data Studio's rich GUI for fully administrating, querying and developing against your SQL Server 2012 instance. Learn More
ParAccel Analytic Platform


We are excited to announce support for our newest database vendor, ParAccel. ParAccel is a leading enterprise analytic platform provider and has Fortune 1000 customers in the financial services, digital media and healthcare industries. Learn More

Total Insight - SQL Log Capture
We are excited to introduce a brand new feature called SQL Log Capture. SQL Log Capture gives you total insight into Aqua Data Studio by logging all SQL queries executed by the application along with the execution time. You can view the log data in our rich GUI or export to Excel. With SQL Log Capture, your opeartions team gains more confidence in the product and can use Aqua Data Studio to assist in troubleshooting performance issues. Learn More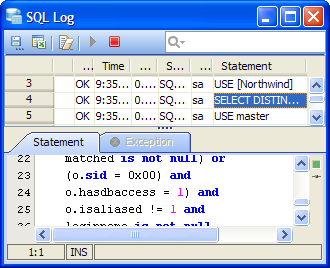 Server Browser Adds Support for Secure Shell Browser
Our new enhancement to Server Browser allows our customers to remotely view system resources, including hardware information, for any registered SSH server. The Secure Shell Browser GUI provides access to Operating System, CPU, Memory, Disks, File System, Network Interfances and OS users. Learn More




ER Modeler Enhancements
Our ER modeler now fully supports newer versions of Teradata, PostgreSQL, Sybase IQ, Sybase ASE, nCluster and Sybase Anywhere. Learn More

For licensing questions, subscription renewals or upgrading to version 11.0, please contact us at license@aquafold.com. For technical support, please contact us at architect@aquafold.com.

Regards,

Guillermo Gron
AquaFold, Inc.
440 N. Wolfe Rd., Sunnyvale, CA 94085
Phone +1.408.394.7120 | Fax +1.408.716.2952
---
Were you forwarded this email? Sign up for the AquaFold Newsletter.
Download Aqua Data Studio 11.0
All Aqua Data Studio Features
1 License, 1 User, UNLIMITED Database Vendor Access

One single-user license of Aqua Data Studio provides a user unlimited native support to 16 major database vendors along with generic JDBC/ODBC support for any number of additional database vendors.