New Product Release

September 2012
Hello -

Our development team is hard at work putting the finishing touches on Aqua Data Studio version 12.0 release, due out in October.

We're excited to announce that we have completely opened up our development process. To make this possible, we've built AquaClusters, our online service which we use on a daily basis to keep on top of our issues, create and publish the Aqua Data Studio documentation, respond to customer questions on our discussions forums and build a central knowledge base. We've heavily invested in both Aqua Data Studio and AquaClusters because we strongly believe that a transparent process leads to higher quality software and happier users.

Follow our development progress and vote on the features you want most, as we march towards the finish line for 12.0.




Download
Aqua Data Studio 12.0 Release Candidate

Save 20% on all
Aqua Data Studio new licenses and renewals until Oct. 31!
About Aqua Data Studio 12.0
Aqua Data Studio 12.0 Release Candidate is available for download now. With 12.0, you get a much more powerful GUI, lightning fast Big Data performance, updates to all of our core components including the latest JDBC driver updates and a powerful interactive shell to automate your interaction with databases, called FluidShell. Learn more about all these enhancements and more on AquaClusters - Aqua Data Studio New Features.

Aqua Data Studio 12.0 comes with more than 80 new features, so experience it today and see why Aqua Data Studio is the best IDE for all your relational database needs.

You can simultaneously run your existing version and an evaluation version of 12.0. All your registered servers and customizations are automatically picked up.
What is AquaClusters?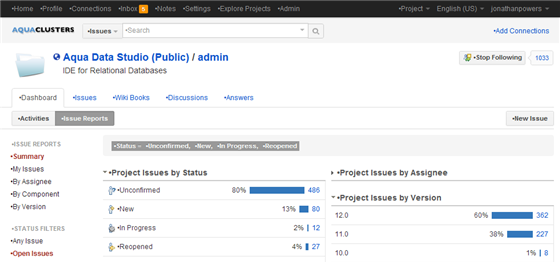 AquaClusters is an online service enabling Software Professionals to Collaborate, Analyze and Innovate. AquaClusters demonstrates our belief that development tools can be much more intuitive and social, enabling you to be much more efficient and effective.

AquaClusters is Free! All public and private projects are free and come with unlimited team members and storage. AquaClusters is designed for the Open Source Software Community, Educational Institutions and Businesses. Learn more
AquaClusters Feature Highlights
Issue Tracking, Wikis, Discussions, Answers
Every project comes loaded with everything you need to stay on top of your project development activities and stay in touch with your customers. Learn more
Create your software professional network
Fill out your profile, connect and share with your fellow collaborators, participate in public projects and build your reputation. Learn more
Notes - Your personal vault
Store your next great idea or content from around the web. Notes are only accessible by you and fully searchable. Learn more
Team management with fine-grained permissions
Invite users to join your private projects and decide who gets view, create, edit and delete access on a per object basis. All content in public projects is viewable by everyone but you still control who can edit what. Learn more
Reliable and Secure
With 99.9% uptime, redundant backups, 24x7 monitoring and SSL encryption, you can rest assured that our systems are secured and running whenever you need them. Learn more
Give AquaClusters a Try
| | |
| --- | --- |
| Experience AquaClusters first hand and decide for yourself. Sign up for free today and see why so many software professionals are using AquaClusters. | |
AquaClusters Features:
• Overview
• Feature Highlights

For Aqua Data Studio licensing questions, subscription renewals or upgrading to version 12.0, please contact us at license@aquafold.com. For technical support, you may use our discussion forums, issue tracking system or contact us directly at architect@aquafold.com.

Regards,

Guillermo Gron
AquaFold, Inc.
440 N. Wolfe Rd., Sunnyvale, CA 94085
Phone +1.408.394.7120 | Fax +1.408.716.2952