Aqua Data Studio 14 Adds Support for NoSQL Databases MongoDB and Cassandra, As Well As Hadoop-based Hive and Microsoft's Cloud Azure Database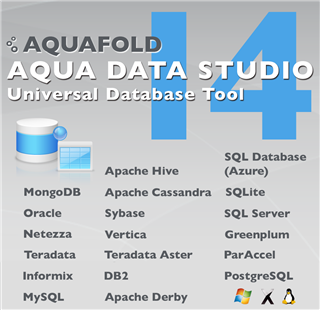 Sunnyvale, CA — October 14, 2013 — AquaFold, Inc. has released Aqua Data Studio 14, a major upgrade to its universal database query and management software, allowing users to design and administer the latest class of databases, including relational, embedded, NoSQL, and even databases hosted in the cloud. NoSQL and cloud databases have grown in importance as both startups and large enterprises face the challenge of working with massive data sets.
"Aqua Data Studio is the first to market with a multi-database GUI that also supports NoSQL, Cloud and Hadoop-based databases," says AquaFold's CEO, Niels Gron. "Our customers see huge value in these specialized databases that provide low cost and highly scalable solutions for their business analytics."
Adding support for NoSQL required the AquaFold development team to develop creative ways to provide a relational "SQL" frontend to databases that explicitly do not support it. The team designed its own MongoSQL language specific to MongoDB, as well as a command line shell that places an interactive JavaScript MongoDB shell directly in Aqua Data Studio. The team also worked to bring Aqua Data Studio's full toolset to users of Apache Hive and the open source distributed database Apache Cassandra.
Connecting to Microsoft's relational database-as-a-service, SQL Database (Azure), is now also possible in version 14 of Aqua Data Studio using the same tools users have come to expect when connecting to Microsoft SQL Server.
"Hosted databases offer cost savings and simplicity that are very attractive to companies," says Gron. "We've ensured that they can continue using Aqua Data Studio whether that database is on the company's own server or moves to the cloud."
Aqua Data Studio's built-in Git client was rebuilt from the ground up and vastly improved. The overhauled interface supports all of the source control tasks customers expect, including branching, tagging, fetching, merging and pushing. A complete history graph makes tracing changes and finding forks and branches effortless.
Aqua Data Studio 14 also features additional enhancements, including connection clustering, which allows users to use a single registered server to access multiple databases from PostgreSQL, Teradata Aster, Greenplum, Netezza or ParAccel. The Table Data Editor and Sybase import have seen dramatic performance improvements, and configurable keyboard shortcuts help make Aqua Data Studio adapt to individual users, including with preconfigured Emacs key mappings. Database support has also been upgraded to include Sybase IQ 16, Oracle 12c, Teradata Aster Database 5.0, Teradata Database 14.0, ParAccel 4.0, MySQL 5.6, SQLite 3.7.15 and Apache Derby 10.10.1, and more.
Aqua Data Studio Availability and Pricing
Aqua Data Studio 14.0 is localized into 21 languages and works with Windows, Mac OS X, Linux, Solaris, and the Java Platform. It is available for immediate download at https://www.aquafold.com/aquadatastudio_downloads/. A complete list of new features and enhancements may be viewed at http://www.aquaclusters.com/app/home/project/public/aquadatastudio/wikibook/New-Features-14.0/page/0/What-s-New-in-Version-14-0.
The cost of a single-user commercial license for Aqua Data Studio 14 remains $499.00 USD. Current license holders with expired subscriptions can renew their subscriptions for $174.65 USD, just 35% of the new license price.
About AquaFold, Inc.
AquaFold, Inc. is a provider of database software tools for relational databases. More than 300,000 users from over 98 different countries use AquaFold's products to design, develop, model and administer their relational databases. AquaFold is headquartered in Sunnyvale, California. For more information, please visit https://www.aquafold.com/.