Aqua Data Studio 12.0 Leads the Way with Big Data Performance and a Command Line Shell to Automate Database ETL Tasks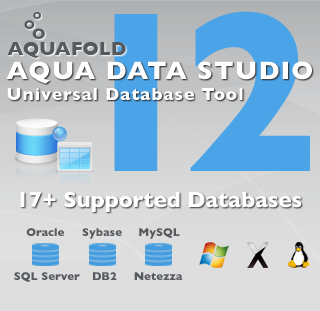 Sunnyvale, CA — October 22, 2012 — AquaFold, Inc. has released Aqua Data Studio 12.0, a major upgrade to its universal database query and administration software, allowing users to design and administer the latest class of relational databases effortlessly. With this release, Aqua Data Studio once again leaps ahead with remarkable speed improvements of 100% to 800% when working with big datasets. It also includes FluidShell, a fully integrated command line shell to automate database ETL (extract, transform and load) tasks, as well as a streamlined user interface, Subversion 1.7 support, and numerous enhancements to support larger databases and the latest database versions.
"This release is about lightning fast performance, particularly for Big Data," says AquaFold's CEO, Niels Gron. "Enterprises are growing their data warehouses exponentially and they are demanding tools that offer speed and cost-cutting automation to stay competitive globally."
The twelfth major release of Aqua Data Studio integrates the all-new FluidShell, an interactive shell combining the power of the SQL command line with the versatility of a Unix shell. FluidShell includes a complete set of commands for quickly scripting and executing custom solutions for data mining, ETL operations, database/file system data exchange, and data warehousing. FluidShell also benefits from the application's speed enhancements, as well as a new connection-pooling feature that increases performance and scalability by automatically sharing connections across multiple query windows.
Aqua Data Studio 12 also features dozens of interface improvements and editor enhancements. The schema viewer is now tab-based, making it simpler to view and edit several schemas when multitasking across different databases. A new search box even helps users locate the proper setting to customize the application's hundreds of options. These features are in large part due to user feedback, which the company has elicited through its online service AquaClusters.
"Speed and automation are not just integral to Aqua Data Studio, they are at the very heart of our company," explains Gron. "Last year we opened the doors to our development and support process using AquaClusters, and were so delighted with the results that we made the service freely available to benefit other software professionals."
The AquaClusters online service provides project-based issue tracking, discussion forums, answers and wikis. Projects can be designated public or private, and fine-grain permissions allow companies to open up any aspect of the development process to their customers and distributed development teams. AquaFold's users have been using the service to participate in the development of Aqua Data Studio 12 by logging bug reports, features requests, and engaging in active discussions that have dramatically shaped the final product.
Aqua Data Studio Availability and Pricing
Aqua Data Studio 12.0 is localized into 21 languages and works with Windows, Mac OS X, Linux, Solaris, and the Java Platform. It is available for immediate download at https://www.aquafold.com/aquadatastudio_downloads/. A complete list of new features and enhancements may be viewed at http://www.aquaclusters.com/app/home/project/public/aquadatastudio/wikibook/New-Features-12.0/page/0/What-s-New-in-Version-12-0.
The cost of a single-user commercial license for Aqua Data Studio 12.0 is $499.00 USD. Current license holders with expired subscriptions can renew their subscriptions for $174.65 USD, just 35% of the new license price.
About AquaClusters
AquaClusters is an online service that has helped redefine how software professionals collaborate, analyze, and innovate in the development process. Anyone can explore available projects or start their own by signing up for a free account at: http://www.aquaclusters.com.
About AquaFold, Inc.
AquaFold, Inc. is a provider of database software tools for relational databases. More than 300,000 users from over 98 different countries use AquaFold's products to design, develop, model and administer their relational databases. AquaFold is headquartered in Sunnyvale, California. For more information, please visit https://www.aquafold.com/.