Aqua Data Studio 13 Released with Enhanced Support for Big Data and Embedded Databases Including Vertica, Greenplum and SQLite for Android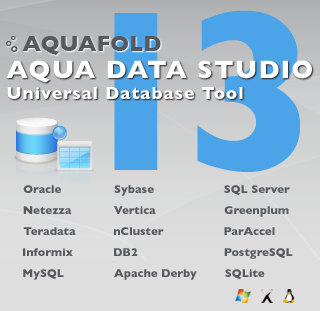 Sunnyvale, CA — April 19, 2013 — AquaFold, Inc. has released Aqua Data Studio 13, an important upgrade to its universal database query and management software, allowing users to design and administer the latest class of relational and embedded databases. The focus of this release, coming just seven months after version 12, is native support for high-end databases such as Vertica from Hewlett-Packard and Greenplum from EMC, as well as the embedded database SQLite for Android.
"Our customers have data that is growing massively in size, requiring the use of specialized databases like Greenplum and Vertica that can store and quickly retrieve content from petabytes of records," says AquaFold's CEO, Niels Gron. "This version of Aqua Data Studio adds even more Big Data support to our users' database toolbox."
In addition to Big Data improvements, Aqua Data Studio 13 includes native support for one of the smallest and fastest, SQLite, the most widely deployed SQL database engine in the world. Businesses can now use the familiar features and interface of Aqua Data Studio to help build custom database applications for their employees on the go. Android applications running SQLite can download small subsets of data from the enterprise's central database to offer employees quick access to critical business data while roaming outside the company network.
"Whether customers manage Big Data on large clusters of machines, or embedded databases across thousands of smartphones, we're ensuring that Aqua Data Studio is the primary tool for all their needs," says Gron.
Aqua Data Studio 13 also features several chart enhancements and version control improvements. More than a dozen pre-built chart themes are now included, and a redesigned chart toolbar makes it easy to customize chart options with a single click. Git version control has been improved, making it possible to create and mount Git Repositories in a single step. Database support has also been upgraded to include Sybase ASE 15.7 and Sybase IQ 15.4, as well as full support for MySQL 5.5, DB2 z/OS 10 and Netezza 7.
Aqua Data Studio Availability and Pricing
Aqua Data Studio 13.0 is localized into 21 languages and works with Windows, Mac OS X, Linux, Solaris, and the Java Platform. It is available for immediate download at https://www.aquafold.com/aquadatastudio_downloads/. A complete list of new features and enhancements may be viewed at http://www.aquaclusters.com/app/home/project/public/aquadatastudio/wikibook/New-Features-13.0/page/0/What-s-New-in-Version-13-0.
The cost of a single-user commercial license for Aqua Data Studio 12.0 is $499.00 USD. Current license holders with expired subscriptions can renew their subscriptions for $174.65 USD, just 35% of the new license price.
About AquaFold, Inc.
AquaFold, Inc. is a provider of database software tools for relational databases. More than 300,000 users from over 98 different countries use AquaFold's products to design, develop, model and administer their relational databases. AquaFold is headquartered in Sunnyvale, California. For more information, please visit https://www.aquafold.com/.