Database IDE
Aqua Data Studio – Ultimate Edition
Aqua Data Studio Ultimate Edition is the premium edition of the industry-leading database IDE with additional new features that complement the Standard Edition. With the Ultimate Edition, you can manage a wide range of data sources with advanced enterprise features.
New Ultimate Edition Learn More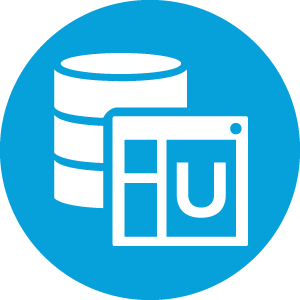 Best Database IDE
for relational, cloud, and NoSQL databases
Use an enhanced database IDE that in addition to the standard features enables you to generate random tables
Generate data and table in few clicks
Automate task with the Scheduled task option
Advanced automate aquascript or SQL task option to optimize processes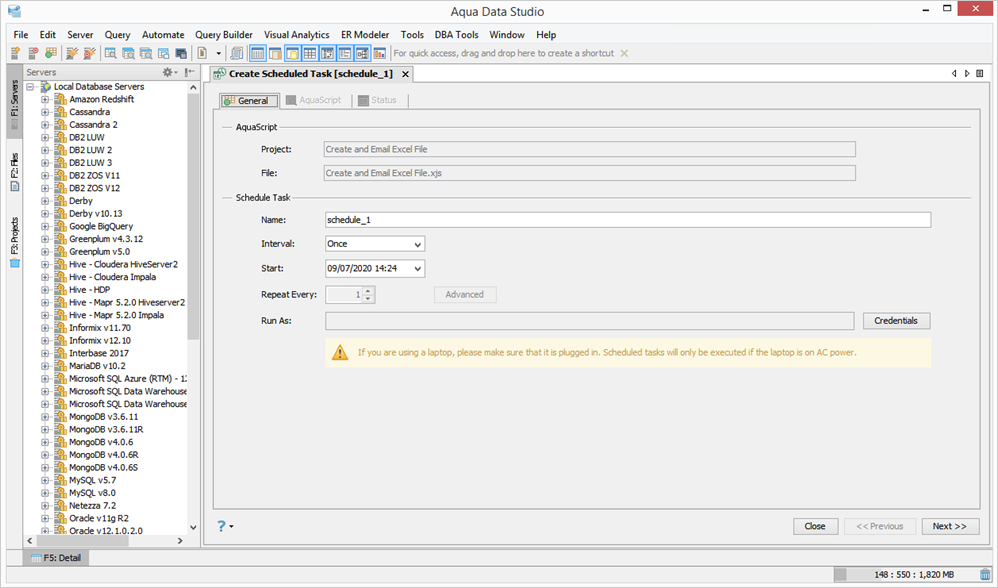 Schedule Tasks
From the tool menu the Create task scheduled option allows users to schedule tasks for Aquascript execution. Now you can easily schedule and set up Aquascript tasks within the scheduler to be executed at a future time.
Database Test
Generate test tables or data randomly. Users have three different options to create tables and data when launching the Random Table and Data Generator: Random tables without any data, Random tables with random data, Existing tables with random data.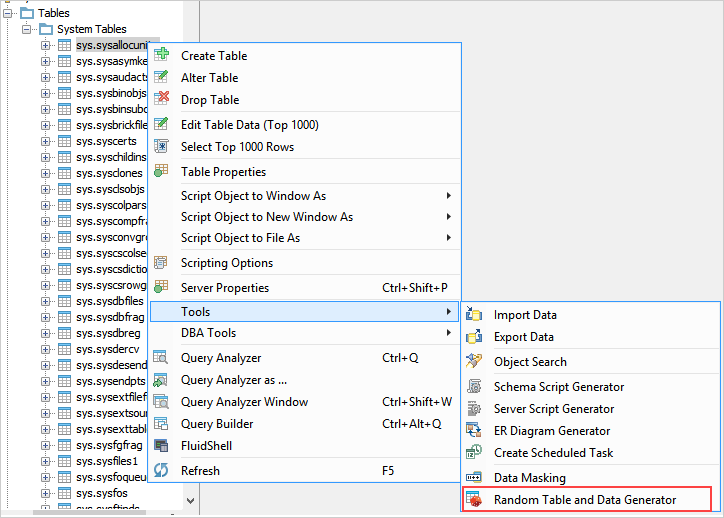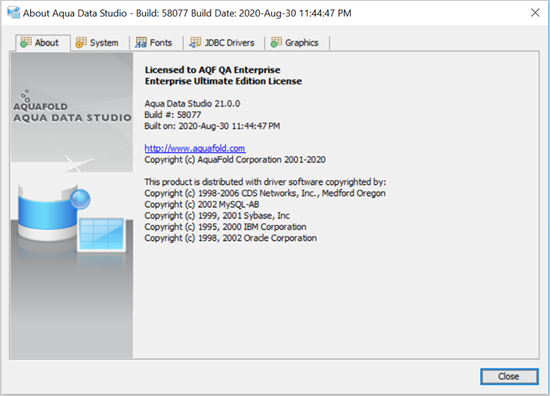 Database IDE Solution
Our Database IDE solution now offers an ultimate bundle license that lets a user expand the ADS base license tool set by adding additional features. A new free trial is available for the Ultimate edition and Standard edition users can switch to the 14-day trial.
Task Scheduler for Projects
Scheduled task — scheduled tasks help optimize processes by making commands available to be executed automatically at specific times intervals defined by the user on a Windows operating system. There are two ways to schedule a task: It can be a SQL task or an AquaScript task.
Scheduled task from the Tool menu — You can schedule AquaScript tasks from the Tools menu in the main application menu. Once you select the Create Scheduled Task AquaScript option, select your project from the AquaScript projects list.
Random Table and Data Generator
Create random tables — Create random tables without any data, random tables with random data, and populate random data into existing tables. This feature facilitates various tests without compromising sensitive information.
Ease of access — The Random Table and Data Generator feature can be accessed in several ways: Via the Tools menu, the Connection Context menu, and the Table Object Context menu.
Create a random table from table objects — A new random table can be created from table objects simply by selecting the Random Table and Data Generator option and Generate Random Table checkbox. For newly generated tables, you can also check or uncheck the Generate Data for New Tables checkbox.
Add random data to existing tables — Generate random data for existing tables by clicking the Add/Remove Tables button to edit the list of existing tables.a You can opt to do it in addition to generating the random tables.
Add random table to a database or to a file — Generate tables and data inside the database or schema specified in the Database Connection section. You can choose to add it to a file or create an empty folder where the generated files will be stored.
Licensing
Ultimate Bundle License —
Aqua Data Studio now offers an ultimate bundle license that lets a user expand the Aqua Data Studiobase license toolset by adding additional features.
Aqua Data Studio has several licensing options for the Standard and Ultimate editions. Each license provides unlimited access to all supported data sources.
Aqua Data Studio Ultimate edition provides a different free trial from the Standard edition
Users of the Standard edition can easily switch to the 14-day trial. For more info visit: Aqua Data Studio Free Trial
Import/Export JSON File in MongoDB
Import and export a JSON File — Import and Export of a JSON file in Aqua Data Studio Ultimate Edition supports four types of JSON:
Line delimited JSON
Concatenated JSON
Document array JSON
Comma between document JSON
The Import/Export Data Tool allows data of different formats to be imported/exported and inserted into databases, tables, and files.
"Aqua Data Studio provides us with a single simplified tool with zero connectivity issues to multiple database platforms."

Bala Kodumudi, System Administrator, Kaiser Permanente (Fortune 500 company, health care, USA)
"Aqua Data Studio is just the best tool in existence. It gives me great pleasure to use it."

Jared Rypka-Hauer, Application Developer, Continuum Media Group LLC (large enterprise, computer software, USA)
"Aqua Data Studio is very easy to learn, it is very helpful when writing queries, it supports a lot of platforms, and it has good customer service."

Pat Krieg, IT Analyst, Duke University (educational institution, USA)
"We like best that Aqua Data Studio can connect to multiple database types."

Michael Delany, IT Manager, Fox Chase Cancer Center (large enterprise, health care, USA)
Video
Short Overview Video Highlighting Major Features Of Aqua Data Studio's Ultimate Edition
Case Study
Snowline School District Improves SQL Server Management with Aqua Data Studio